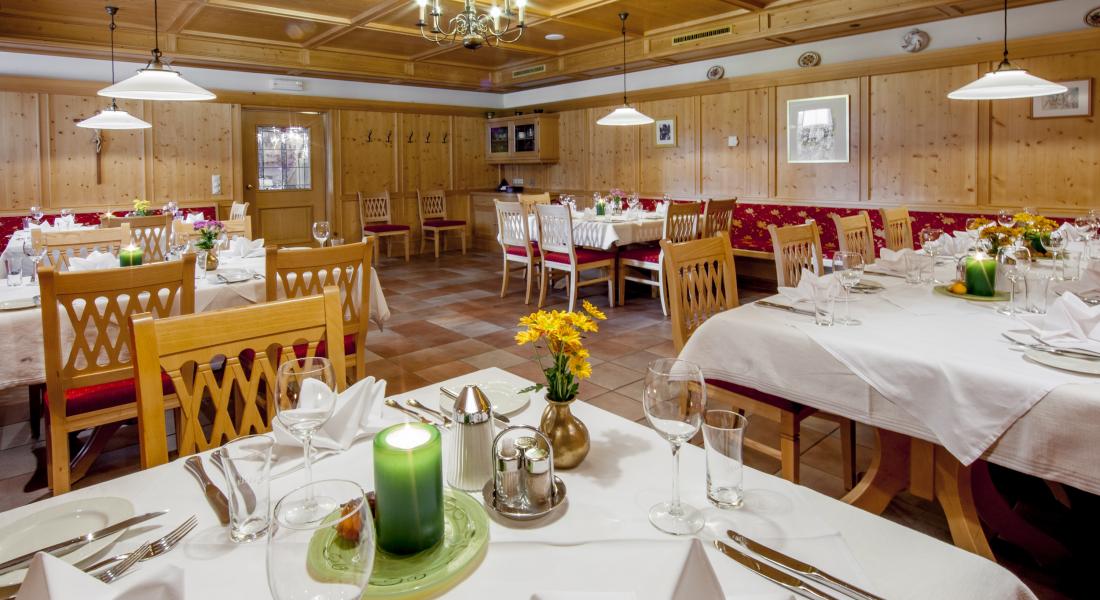 Restaurant Menu
Salads, Entrées & Soups
Mixed salad
Farmer's - style salad Leaf salads with potatoes, pumpkin seeds, sliced egg, croutons, fried bacon strips and pumpkin oil
Mixed salad with slices of grilled turkey
Smoked salmon with roasted potatoes "Bernese Style" and leaf salad in pumpkin seed oil
Beef carpaccio with parmesan, rocket and basil pesto
Clear soup with noodles or pancake strips
Clear soup with liver dumplings
Cream of garlic "Innsbruck Style" with garlic bread slices
Tirolerhof Country Menus
Cheese loaves with brown butter and mixed salad
"Cheese Spätzle" Home-made pasta topped with mature mountain cheese and crispy onions served in the pan with mixed salad
"Tiroler Gröstl" Pan-fry dish of potatoes, bacon, sausage, fried egg and cabbage salad
"Kaiserschmarrn" Pancake chunks served with apple mousse
"Tiroler Gemüsegröstl" Pan-fry dish of potatoes and vegetables with mixed salad
Main Courses | Fish
Zander fish with bacon, dill cream sauce and, zucchini-tomato-risotto
Tyrolean Mixed Grill Platter Pork steak, beef medallions and filet of turkey breast with herb butter, chips and grilled vegetables
Pan-fried escalope of veal "Vienna Style" with parsley potatoes and cranberries
Entrecote with potato wedges, herb-butter and grilled vegetables
Pork filet with spicy mushroom cream sauce, served with home-made pasta
Escalope of beef with onion sauce, roast potatoes "Bernese Style" and green beans
Cordon bleu of pork (Escalope of pork "Vienna Style") stuffed with ham and cheese, with parsley potatoes, cranberries and mixed salad
Game stew "St. Hubertus" with mushrooms, home-made pasta and cranberries
Medallions of lamb with thyme sauce, Brussels sprouts and potato croquettes with almonds
Medium roasted duck breast with creamy polenta, mangetout and cherry tomatoes
Sweets
Sweet curd dumplings in cinnamon-flavoured bread- crumbs and plum jam
Pancake "Schönanger" 1 Crepe with hazelnuts, chocolate sauce and vanilla ice cream
Our menu is complemented by seasonal recommendations from the kitchen. Our menu is available from 11.30am to 2pm and from 5.30pm to 9pm.
All day you can dine from our afternoon menu. In summer closed on Tuesdays!
We gladly accept reservations at +43 5339 8118-0.
Enjoy the cozy atmosphere in our restaurant.